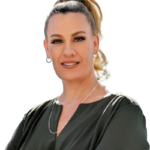 Tiffany
Real Estate Sales Agent
A little bit about me...
I'm Tiffany, a new real estate sales agent with a background in sales spanning over 10+ years in various industries. One thing that sets me apart is my outgoing personality, which people seem to love. I genuinely enjoy connecting with others and building relationships, which has served me well in my previous sales roles.
Since becoming licensed in real estate, I've had a fantastic start to my career. I'm eager to make a difference and assist clients in their buying or selling journey. Helping customers is something I've always been passionate about, and I'm more than willing to go the extra mile to ensure their satisfaction.
My main focus in real estate is listing homes for sale, working with investors, and assisting first-time home buyers. I understand the unique needs and concerns of each group, and I take pride in offering personalized solutions and guidance to help them achieve their goals. Additionally, I have a soft spot for new construction projects and thoroughly enjoy helping my clients select options and features that truly make their dream homes come to life.
With my infectious enthusiasm, wealth of sales experience, and dedication to client satisfaction, I'm confident in my ability to make a positive impact in the real estate market. If you choose to work with me, you can expect exceptional service, tailored advice, and a genuinely enjoyable experience throughout your real estate journey.